As a WordPress developer and freelancer, I've worked with many WordPress hosting environments. Most of them fall under three broad categories, shared hosting, managed hosting, and virtual private servers.
Convesio is a managed WordPress hosting service in that it only supports WordPress. But the similarities with other managed WordPress hosts might stop there. Convesio is a different breed of hosting service that aims to disrupt the WordPress hosting market.
In their own words, Convesio is the "first self-healing, autoscaling, platform-as-a-service for creating and managing WordPress websites." At first glance, Convesio may seem pricier than its competitors, but what I found was that it had features not found in other hosting providers.
Table of Contents
Convesio Overview
Convesio was founded by Tom Fanelli in 2018. Tom's background is in marketing and product management. He created Convesio out of his frustration with the current WordPress hosting stack.
When I booked the demo with Convesio, I was pleasantly surprised that I was able to speak with Tom personally during the demo session. During the call, he laid out the differences between Convesio and other traditional hosting solutions. More on that below.
Convesio WordPress Hosting Pros and Cons
Pros
Fast speeds. A sluggish dashboard is a waste of your time. Convesio makes your frontend and backend load fast
High uptime. Convesio's technology ensures that there is always a backup container running for your site, virtually guaranteeing that it won't go down
Built-in caching so you don't necessarily need a caching plugin
Enterprise-grade security for all plans
24/7 customer support with access to Slack channel
Free migration
Complimentary domain registration
Cons
Is pricier than your average WordPress hosting
Does not support multisite
Does not have native Git support yet
How Much Does Convesio Cost?
Convesio is a bit pricier than its competitors. There are seven levels of hosting plans. The Level 1 Starter Plan starts at $50/month. You get one WordPress install, 5 GB of disk space, and 50 GB of bandwidth.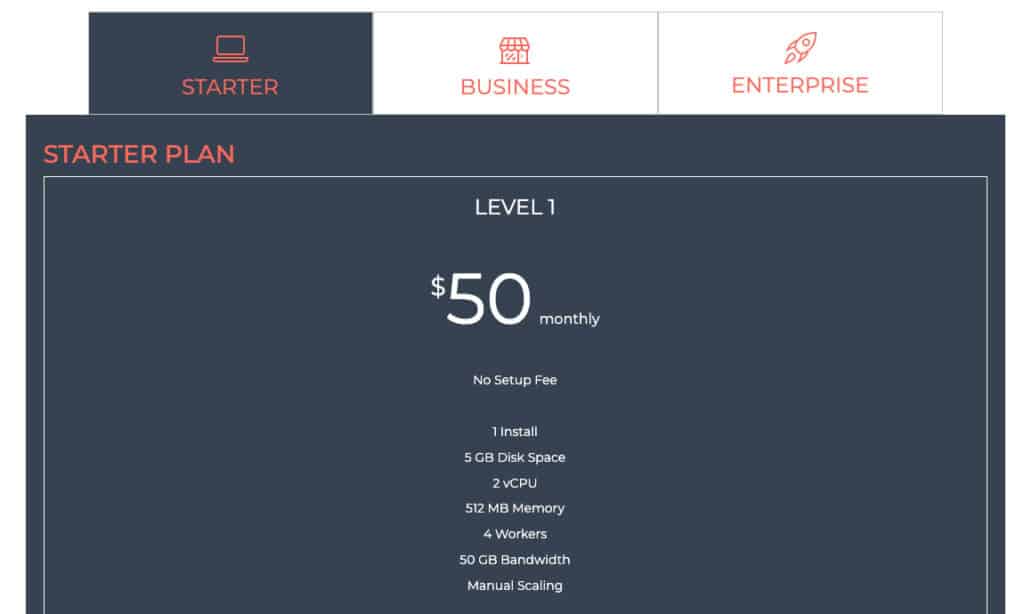 The Level 2, 3, and 4 plans are Business Plans. Each level is double the pricing of the previous level. Again, each plan supports one WordPress install
Level 2 – $150/month
Level 3 – $300/month
Level 4 – $600/month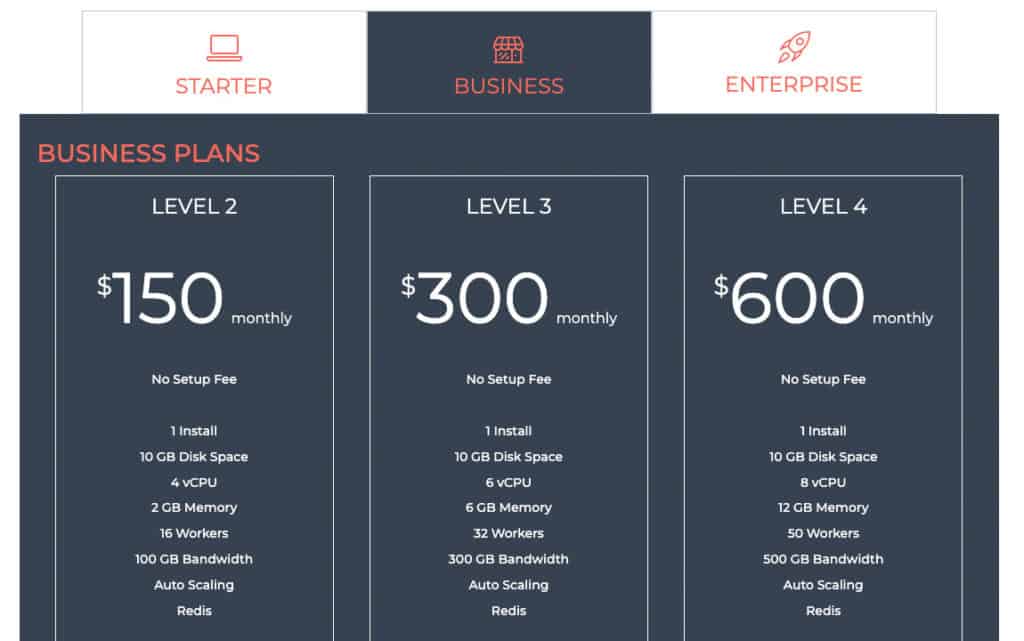 Enterprise Plans (Levels 5, 6, and 7) are considerably more expensive but also offer a lot more bandwidth.
Level 5 – $1,000/month
Level 6 – $1,600/month
Level 7 – $2,400/month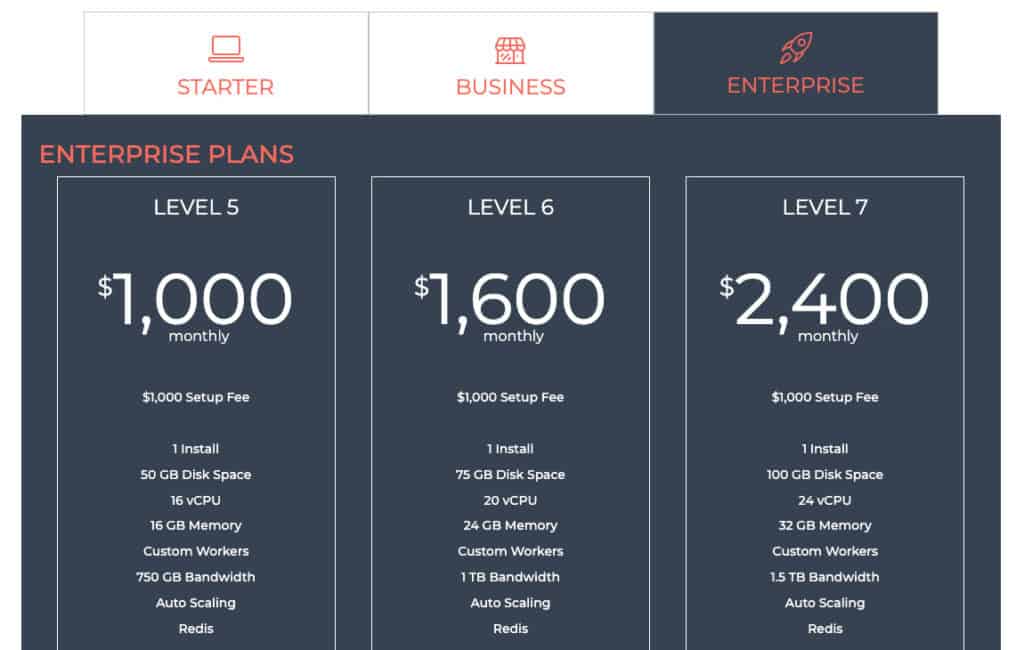 What Makes Convesio Unique?
The technology behind Convesio's self-healing and autoscaling hosting is Docker. The way Convesio utilizes Docker differentiates itself from the competition, and allows them to offer faster hosting that can withstand traffic surges.
What is Docker?
Docker is a technology that allows you to deploy and run application inside containers that are portable and self-contained. Each Docker container contains all the software libraries required to run a particular application, which allows these containers to run on different kinds of machines.
Not only are Docker containers easy to move between servers, they are also secure, since they isolate applications from other applications. Docker containers are also very fast. Both of these features make it easier for Docker technology to scale up and down depending on demand.
Having said that, Convesio does not run your WordPress site inside a single container. Convesio breaks up your WordPress application into several layers — PHP, database cluster, and load balancers — each with their own set of containers. Each array of containers can then scale up independently during traffic surges.
Convesio Features
Fast Caching
Convesio implements three layers of caching. The main one (L1) sits at the outer edge of the network with the load balancers. L1 intelligently decides what will be stored on the other layers. This allows site content to be loaded fast and efficiently. The caching layer also means you don't need a caching plugin, which saves disk space and CPU usage. If you do want to use a plugin, however, Convesio works with WP Rocket and many other caching plugins.
Optimized For Speed
All Convesio sites come with load balancer containers. They reroute traffic to the proper backend containers during traffic surges. Convesio also runs on super-fast Google Cloud and Amazon AWS networks. Since their technology is server-agnostic, Convesio's services are also coming to networks on Digital Ocean clusters.
If you've worked with WordPress site for some time, you'll know that while caching helps your website frontend load time, it does not help with the admin dashboard. Convesio optimizes our backend so that your dashboard loads fast as well.
Auto Scaling
Convesio's Docker technology is able to spin up additional containers almost instantly. If your website receives a traffic surge, Convesio will automatically launch extra containers to manage the spike without taking your site down. You can see a demo in a video created by the Convesio folks below:
High Availability
Convesio uses multiple load-balanced containers. This means that there are many instances of your application that exist at the same time. If one container fails for whatever reason, an additional container will take over and continue working correctly without interruption. Load balancing results in less downtime and a faster experience for your site's users.
What's more, you can deploy the entire architecture with load balancers, a database cluster, and redundant file system in under a minute.
Versioned Backups
All Convesio customers get automated and scheduled Git-style versioned backups. You can choose backup intervals between 24 hours to 180 days, and retention times from 24 hours to forever. You read that right. Convesio allows you to set daily backups and keep them forever.
In addition, Convesio offers offsite backups for a nominal fee. These backups are stored at a secure remote location in case the main network is compromised.
Security
Convesio takes security seriously. Their Docker design inherently isolates each application from other sites on the platform. They've also partnered with security firms to deploy applications such as Patchman and Human Presence to detect malware and bots before they compromise your site. All site on Convesio are also integrated with Cloudflare.
Convesio also does one thing that I haven't seen in other hosts: Tom Fanelli promises the company will fix your site for free if it gets infected.
Clustered Database
Each WordPress site on Convesio is backed by multiple MySQL servers. Like the other layers of Convesio's network, this creates redundancy that supports your site if one node fails. The servers are also fast enough that they can handle multiple orders per second in a WooCommerce site.
Self-Healing
Docker technology lets the system re-deploy a new container if your website goes down. The ability to instantly clone and deploy containers means your site almost never goes down.
24/7 Support
Convesio's support really sets them apart. Not only do you have 24/7 access to their help desk, Convesio customers also get access to the support Slack channel. Since most of Convesio's customers already use Slack, the move makes a lot of sense, and really makes Convesio stand apart from their competitors.
When you move to Convesio, they also offer free migrations and complimentary domain name registration.
Staging Environment
Like most other web hosts, Convesio allows you to create a staging environment for your website for development and testing purposes. As of this writing, Convesio is still working on cloning to production from the staging environment.
Additional Services
Convesio is going the extra mile to earn your business. During our demo, Tom offered to do a free analysis of one of my sites and a trial to compare the before and after speeds.
On top of that, Convesio offers other more advanced professional services, including technical audits, advanced WordPress security, and edge speed optimization.
Who is Convesio For?
Convesio lies in the middle ground between traditional managed hosting and large scale custom networks. It is ideal for WooCommerce and membership sites that receive a lot of traffic and require minimal downtime.
If your site does not get a ton of traffic, it may not be able to utilize Convesio's features to its fullest. Nevertheless, Convesio claims that you should still see a speed boost when you move over to them.
Final Verdict
I think Convesio is a perfect hosting provider for a site that is pushing the limits of a managed host such as WP Engine or Kinsta. This is especially true if a host like WP Engine is pushing you to move up a tier (or two) based on usage.
Site that don't get a ton of traffic will probably be better off staying with their current host, but at high levels of traffic Convesio's pricing is more competitive.
Furthermore, Convesio offers more personalized services and support that I simply haven't seen at other hosting companies. Since you get a 30-day free trial and free migration, it really doesn't hurt to check it out!
Convesio Alternatives
If you find that Convesio is too pricey for your needs, here are two great alternatives:
Cloudways
Cloudways acts as the middle man between you and the cloud platform of your choice. You can set up a server on Digital Ocean, Vultr, Linode, AWS, or Google Cloud with just a few clicks and at an extremely affordable price. For example, a standard 1GB droplet on Digital Ocean will run you $10/month and comes with 25GB of storage and 1TB of bandwidth. This virtual private server outperforms any shared host at the same price.
WP Engine
WP Engine is one of the largest managed WordPress hosts. Plans start at $25/month for 10GB of storage and 50GB of bandwidth. Each plan comes with an array of tools that help you build your site: one-click staging and development environment, free SSL, integrated CDN, and Git tools. I've personally found WP Engine's support to be responsive and helpful, especially for common bug fixes for WordPress.